The Sensory Connection Program uses sensory approaches to treatment for psychosocial self-care. It begins with self-awareness and moves on to strategies for self-regulation, self-care, and self-healing.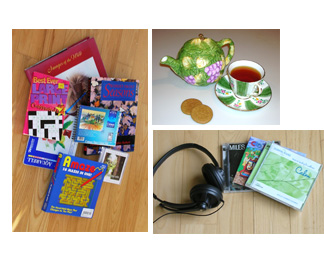 This website is intended to familiarize you with the power and possibilities of sensory related treatment and to provide resources so that you can integrate sensory activities into your program.
Mental health settings
Adolescent Care
Substance abuse treatment
Geriatric care
Trauma informed care
Restraint and seclusion reduction initiatives

Sensory Modulation Workshops Go Online
CAOT Sensory Modulation Online Workshops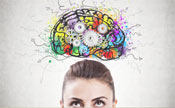 CAOT Workshop
Online Hybrid: Sensory modulation for mental health
February 25 - April 28, 2022
Online workshops on sensory approaches to treatment have turned out to be an incredible opportunity for the Sensory Connection Program Team. Last year we were invited by the Canadian Occupational Therapy Association (CAOT) to do a series of workshops on Sensory Modulation Approaches in Mental Health: Interventions for Adults and Adolescents. These workshops held in September and at the end of October were sold out and were so successful that the SCP team has been invited to do yet another workshop for CAOT in February-March 2022. Megan and Peggy and I consider this a great compliment and exciting opportunity to reach more therapists to promote sensory approaches to treatment. The webinar/interactive labs led by Peggy and Megan were particularly powerful and well received. Their passion for the use of sensory techniques in their own clinical practice was contagious.
To learn more about the details of these Workshops click here [PDF file].
We anticipate that this workshop will fill up very soon so be sure to reserve your space as quickly as possible. This is a unique opportunity to learn about the Sensory Connection to Treatment. The SCP has no other conferences or workshops planned at this time. Registration and more details →
Special Thanks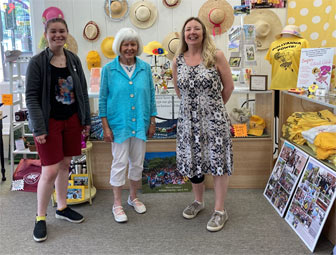 These workshops and SCP online venture were made possible by the help of some key people. We would like to extend a special thanks to CAOT and especially to Christina Lamontagne and Jenna Rose for all of their professional guidance and support. They were a pleasure to work with. Thanks also go to Veronica Francis (right) and Allie Butterfield (left) from Notchnet for their help with the recording and editing of the lectures.
Online SCP Workshop Opportunity
If your organization is interested in sponsoring a similar workshop, please contact Karen Moore through the contact page of this website.
Introducing the Sensory Connection Program Team.


L to R: Karen Moore; Angela Balzarini-Leonhart; Peggy Ninow; Megan Flood

The Sensory Connection Program
Developed by Karen M. Moore, OTR/L, features three books: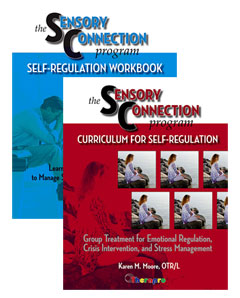 Follow this link to compare the three publications to see which one is most applicable to your setting and client population.

Follow The Sensory Connection Program on Facebook