The Sensory Connection Program uses sensory approaches to treatment for psychosocial self-care. It begins with self-awareness and moves on to strategies for self-regulation, self-care, and self-healing.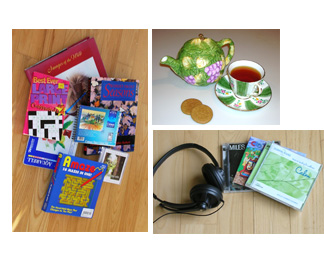 This website is intended to familiarize you with the power and possibilities of sensory related treatment and to provide resources so that you can integrate sensory activities into your program.
Mental health settings
Adolescent Care
Substance abuse treatment
Geriatric care
Trauma informed care
Restraint and seclusion reduction initiatives

Introducing the Sensory Connection Program Team.


L to R: Karen Moore; Angela Balzarini-Leonhart; Peggy Ninow; Megan Flood
Growing the Sensory Connection Program
Over five years ago I realized that it was time for the Sensory Connection Program to be infused with new ideas and a strong clinical connection. I was invited to do a Sensory Connection Program Training at Regions hospital in St. Paul by Angela Balzarini-Leonhart. I was instantly impressed and excited by the cutting-edge work that Angie was doing there promoting sensory based treatment and incorporating sensory techniques into the entire mental health program. I invited Angie to be a part of the Sensory Connection Program and she began doing trainings with me. More recently two of her colleagues joined us, forming our new team. Their fresh ideas, strong background in the use of sensory modalities, new clinical stories and additional skills in the use of Somatic Experiencing, Healing Touch, Biofeedback, and Reiki are already making The Sensory Connection Program Conferences more relevant and dynamic. I am already inspired by their enthusiasm and looking forward to working with our new team as we move forward with traditional conferences and now conferences online as well. It is a very exciting time for the Sensory Connection Program.

The Sensory Connection Program
Developed by Karen M. Moore, OTR/L, features three books: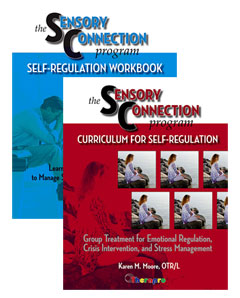 Follow this link to compare the three publications to see which one is most applicable to your setting and client population.

Follow The Sensory Connection Program on Facebook